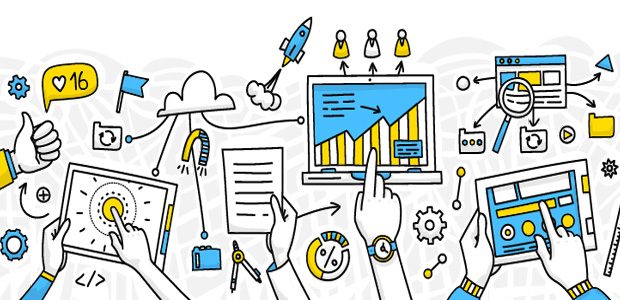 In today's rapidly shifting world, SEO techniques can change on a dime—and the worst part is that you might not even know it. Hacks that could have won you a front-page result as recently as 2016 are not only obsolete now, but they may even hurt your website's rankings.
That's why you need to stay on top of the ball.
We spoke with Jacob Warwick, Director of Communications at Skedulo, and Jesse Teske, SEO Manager at YLighting, to get their expert thoughts on the most current SEO tactics. In this post, we've broken down the top SEO techniques to help you skyrocket your rankings and boost your number of monthly visitors.
Before we learn about improving your web page ranking, let's take some time to test your current page ranking on search engine results.
Here is a free tool offered by SERPS that you can use to determine your page ranking based on keyword search. Take some time to explore the tools and other multiple search criteria they have to offer like domain name, location and device type.
Your goal is to make the results list here and then get closer to the top of this list. Run this test to check your site ranking in the eyes of Google and Yahoo, and master the following techniques to improve upon that rank.
Effective SEO Techniques
I'll talk about the following tactics in this post:
Improve engagement to improve rankings
Make your existing pages longer
Focus on YouTube SEO
Improve site speed
Focus on topics instead of keywords
Build backlinks
Reporting and analytics
Technical optimization
Local SEO and Listings
Guest posting
Let's dig in!
Further Reading:
Beginners Guide to SEO: Getting Started With Blogs and Articles
HubSpot's Global Head of Growth & SEO Explains Why Backlinks Are the Most Effective Factor for Ranking (podcast)
The SEO Framework That Helped Propel Pinterest To Over An Estimated 72M Users (And Over 50B Pages of Content!)
1. Improve Engagement to Improve Rankings Simply put, engagement is the ability to hold a user's attention. In SEO terms, it is a measure of the amount of time spent on a page.
2. Although Google hasn't officially declared it, there is evidence to suggest that this search engine giant does reward sites with h5 user engagement with higher page ranking.
3. According to research done by Wordstream, there's a definite correlation between the bounce rate of a page and its organic position. The higher a web page's bounce rate is, the lower it's ranked in search.
4. Google's reasoning is that if a user spends more time on a page, it's probably because she found the page useful. And since Google only wants to deliver the best possible results to its users, it will push sites with h5 engagement up in the search engine results pages (SERPs).
So how can you improve your site's engagement?
Here are five tactics you can use to give your existing content a boost in search engines:
Format Your Posts for Easier Reading Good formatting can instantly improve your page's readability. This, in turn, can improve your engagement rate. According to eye-tracking studies, the following three formatting tactics can help increase your content readability:
Shorter paragraphs: Limit each paragraph to 2-3 sentences at most. It's even okay to use one-sentence paragraphs if necessary, but use them sparingly or your post will look like a bullet-pointed blog without the bullets.
Shorter sentences: Longer sentences are hard to follow onscreen. When possible, break longer sentences into multiple shorter sentences.
Sub-headers: People don't read on the web; they scan. To make scanning easier, use plenty of clear and informative sub-headers to guide readers down a page. In addition to this, call out points that are important by emphasizing them in bold. Readers should be able to scan your blog post and get the "gist" of what you're talking about.
Bullet points: When you have a lot of data — stats, facts, ideas, examples — packed into one paragraph (like this one!), it makes it easier to scan when you list them with bullet points.
Here's an example of poor formatting:
Knowledge of the existence of the Law of Attraction is a huge benefit in itself. Most people live their entire life and never realize that there thoughts are creating their reality. When one discovers this universal truth the entire world begins to open up. After much hard work and practice you will begin to see life-changing and long -lasting results from utilizing the techniques and strategies taught here. There are many ways to use the law including through daily affirmations, visualizations, goal setting, changing think patterns and of course tapping into the universal storehouse of information.
Here's an example of the same paragraph, but with good formatting (here are some ways you can improve block of text):
Most people live their entire lives and never realize that their thoughts are creating their reality.
After much hard work and practice you will begin to see life-changing and long -lasting results from utilizing the techniques and strategies taught here.
Here are some ways you can use the law of Attraction to your benefit:
Daily affirmations
Visualizations
Goal settings
Changing link patterns
B) Use Bucket Brigades
A "bucket brigade" is a copywriting technique designed to keep capture a reader's interest and keep them on your page.
It essentially involves breaking an idea into multiple sentences, using a trigger word or phrase (as simple as "Look." Or as lengthy as "The secret to great copywriting is this") and then ending the sentence with a colon.
Look at this example from Backlinko:
C) Use Images Throughout Your Content
Including professional, high-quality images (photos, graphs) throughout your content is an easy yet powerful way to increase engagement. For one, images help you show an idea, not just tell it (a picture tells a thousand words, right?).
Secondly, images help you break content into different sections. And finally, people just like pretty pictures.
For example, take a look at how Growth Everywhere uses images to clearly illustrate the step-by-step content in How To Do A Content Cleanup (And Grow Your Organic Traffic)
Source – https://webdesigntraining.co.in/seo-techniques-and-how-to-use-them/